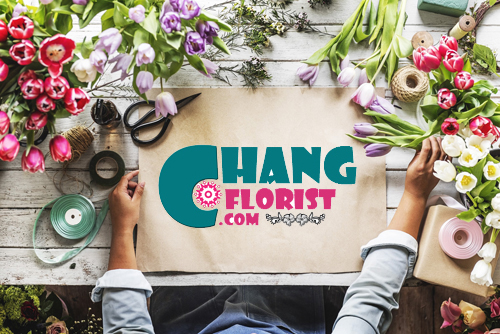 Flower delivery in Bangkok and all Thailand by the florist network in Thailand.
ChangFlorist.com is Thailand's nationwide florist network, with a huge network of local business connections bringing flowers and gifts to all areas of the country. Our highly-skilled professional florists and delivery teams have the knowledge and experience to achieve excellence - whatever your requirements or special occasion. Our close working relationship with our nationwide network of expert florists ensures the highest standards of design and presentation. We are ready 7 days a week to deliver wonderful professionally-designed flowers and gift ideas. If you need to impress someone in Thailand with flowers or gifts, ChangFlorist.com is the reliable and professional solution: we are ready to serve you and take care of your order quickly and efficiently.

Same-Day Delivery
We offer guaranteed same-day delivery for all orders placed before 3.00pm in the recipient's time zone - orders placed after 3.00pm will normally be delivered the next day. The areas where we can provide same-day delivery are: Bangkok and Metropolitan areas (Nonthaburi, Pathumthani and Samut Prakan), also the major cities of Thailand such as Phuket, Pattaya, Koh Samui, Chiang Mai, Udonthani and Khon Kaen.

Delivery Service Areas
Chang Florists delivers all flowers and gifts ordered through our vast network of local Thai Florists, to all Thailand provinces. This includes the major centres such as, Bangkok, Pattaya, Phuket, Chiang Mai, Samui, Khon Kaen and Udon Thani. Chang Florist also delivers to the remote Issan cities as well. We offer same-day flower delivery if required - this is guaranteed for orders placed before 3.00pm Thai time.
Please click here to see the list of our delivery service areas. >>

Quality Guarantee
We never forget that you are our valued customer. You can be confident that once you have placed your order, you will receive premium-grade service: the delivery will be accurate and of the best quality. Our promise to each customer is simple: complete satisfaction.


We guarantee that every flower selected will be only fresh A-grade quality. We mostly use fresh-cut flowers from local garden farms - an important reason why you should choose Changflorist.com for all your flower deliveries. The recipient is guaranteed to receive a fresh and beautiful gift of flowers.


We guarantee that the whole gift or flower package you choose is selected for modern and stylish quality - we want your recipient to be delighted with their gift.

We guarantee the recipient will get flowers or gifts on the specified date, and we also guarantee same-day delivery for orders placed before 3.00pm in the recipient's time zone.


We guarantee the flowers and gifts will reach the recipient at the name and address that you have supplied to us, and we also guarantee the flowers will still be as fresh and beautiful as if they had just come from the garden.


We cannot guarantee an exact delivery time, especially at peak periods, but we guarantee that we will deliver to the recipient on the specified date.

Our flower shop in Thailand looks forward to providing flowers and gifts delivery service with professional services. Since our Bangkok and Thailand flower shops are well aware that our main goal is to provide the best possible professional service. Customer impression and customer satisfaction are our key goals.
If you are not satisfied with our service or have any complaints, please contact us at info@changflorist.com or telephone +66 (0) 628926669