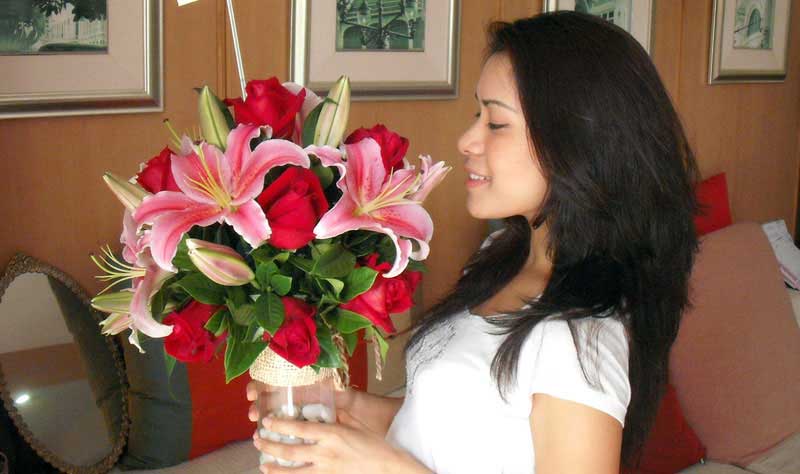 Bangkok Thailand Florist
Flower Delivery Testimonials
What can i say! i don't usually write reviews, but this one really deserves it.
i needed to deliver a bunch of roses to my girl friend in a remote isaan village, and on April 14 (today) on Songkran. Every other site said they can't. one site even took my order week ago and told me 2 days ago they can't deliver. but Chang Florist to the rescue. not only did they do a super bouquet of roses, they delivered on time as asked and worked with me every step of the way through their line account to give such a personalized service. normally i really like to rant when the service is crappy, but being able to rave about a great service is rare.
Thank you so much. i know where i'm going to order flowers to thailand next.
Roshan Ameen reviewed ChangFlorist - 5 star
April 14, 2017
I am from Canada and ordered flowers, chocolates and stuffed bear. The service was impeccable and very professional! Just, was very attentive and responded to my messages via email. Thank you so much for the wonderful hospitality. I highly recommend this service to anyone wanting to send flowers in Thailand.
Robert Franklin rewiewed ChangFlorist-5 star,
September 1, 2016

I live in UK and wanted to send flowers and gift to  friend in Thailand. The gift I wanted to send was a cat toy which no company seemed to stock. I emailed 4 florists in total and Chang Florists were the first to respond and did so within 15 minutes of receiving my enquiry just a few days before Christmas. Their quick reply and willingness to go the extra mile with all I can describe as superb service managed to find a suitable cat soft toy, help me with my floral choice and take payment all within an hour of my initial enquiry. Delivery was prompt and I was kept informed throughout the whole process. Out of the 4 companies I contacted one did not reply at all, and the other two the next day. I would highly recommend Chang Florists and if I ever need floral or gift services again I would have no need to go elsewhere as this company has proven itself with exemplary service. Thanks to Peg and the team. Brett Thornton, Newcastle Upon Tyne, UK
12/29/12
Hello,
I want to say thank you so much for the beautiful flowers for my mom. She was so very excited and happy it was perfect. Your florist in Chiang Mai called and spoke to one of her Thai friends who told them what restaurant they were going to so that they could deliver the flowers to the restaurant for her party. She was so very happy, and the owner of the florist delivered them herself and went in and met my mom. Your service was so wonderful and your customer service was amazing!! I will use you every time I need to send her flowers!! Thank you so much again for making her birthday so perfect!
Donna
09/22/12
Thank you ever so much, as always your service is highly recommendable.
PS. If you consider I am based in Pretoria South Africa and through your amazing website I can arrange for flowers in Bangkok with very little effort Chang Florist is amazing.
Wishing you an awesome day and look forward to using your services again.
Kind Regards,
Irene L.
09/12/12
Jira
Thank you and Chang Florist once again for your service and quality of goods. My girlfriend Aom was absolutely over the moon. In her words "I think I will be smiling for 2 years....I am so happy".
I work in Western Australia and Aom works in Bangkok, so having a Florist such as Chang Florist with top quality service makes being away from each other a little bit easier.
Again, thankyou very much.
Bill Rosser
04/22/11
Thankyou Jira,
Once again the service from Chang Florist was excellent. Sorry about the late notification, I will try to be earlier next time.
Aom, the girl friend loved the surprise as always......
Best regards
Bill Rosser
Western Australia
4/1/11
Jira
This is the second time I have used Chang Florist. Your pricing is excellent. Your service is excellent. Your quality of products is excellent. Thankyou, it is a pleasure doing business with a company such as Chang Florist.
PS.....You have made my girlfriend love me even more.......or she just loves Chang florist also....
Thanks again
Bill Rosser
(Western Australia)
3/17/11
Dear Peg,
My recipient just texted me and she received the flowers in good order.
I was pleasantly surprised by the prompt and efficient delivery. Now I know who to turn to for future flower deliveries.
Thank you once again.
Regards,
Adam
11/11/10
I just wana say thank you very much!! The flowers were lovely!  Is there a place on your website where I could leave positive feedback.  She really liked them and so do I
Thanks joey
2/7/10

Thank you very much for making us very happy on her birthday.  Even doe I am all the way here in Montreal, Canada you guys at Chang Florist have managed to make it a very beautiful and special day.

I really appreciate all that you have done.  You have most certainly impressed me with your great service and lovely flower arrangement.
Sincerely,
Joey Torchia
2/7/10

Hello Peg,
Once again you have done a wonderful job and delivery time was perfect. My wife was very surprised and happy with the roses you delivered. I'm very impressed with your company.
Best Regard's,
Mark PlennesScottsdale,
Az. U.S.A.
2/1/10
Dear Peg & all at Chang Florist,
I just wanted to thank you all for the wonderful service and the beautiful flowers you deliverd for me yesterday!
Angie was just thrilled with the roses - thank you very much - kob kun mak - ขอบคุณมาก!
You can be sure i will choose you again the next time I send flowers.
Thank you again & have a wonderful day!
David Kubiak
Minneapolis, MN
01/27/10
Peg, thanks for the timely delivery of the flowers and the bears. My girlfriend was very surprised and very grateful about the gift and the great service. I'm forever thankful for your help. When any future plans call for a florist, your the man!!!!!!!!!!! I will tell all of my friends about your great service.
Thanks Again, Darnell
12/26/09
I want to thank you so much for the work you did on delivery of the flowers.  My finacee loved them so much.  Your web site is absolutely great.  It is so easy to order, the payment is very simple, and the pictures of the flowers are wonderful.  You did everything you said you would do and I thank you for your hard work and helping me make my finacee very happy.  I will always use you to deliver flowers to her. 
Thank you so much, Ken
12/19/09
Dear Peg,
Thank you very much you always send great flowers and give a fantastic service....Thank you !!
My fiance Chalita always loves the flowers I send her they make her very happy.
Thank you again and best regards
Terry
9/24/09
Hi Peg
I have just received a text message (SMS) from Kelly, we made her cry ! (Happy Cry!)
Thank you go much for the excellent service... I have other friends and relations in Bangkok, and i will do my best to ensure we use your brilliant service again!
Regards
James Salamon
England
9/23/09
Maew,
I called Aom yesterday to go to work by 7:00PM that there was something there.  She sent me a message that she was surprised and loved the flowers and gift.
Thank you very much for making her birthday a wonderful day.
I will use your service again and will reccoment it to my friends.
Regards,
Ronnie
9/16/09
Maew,
I wish to thankyou for the great service changflorist.com has provided to me in forfilling my request to send flowers to my girlfriend, i will definitely shop again through your website.
Thanking you.
Kindest Regards,
Tony Mills
8/29/09
Hello Peg
Pattaya has just called me to thank me for the flowers. She was positively surprised and said she likes them very much.
Thank you for the quick and professional delivery. I will definitely come back with new orders for other occasions. Great service! Keep it up.
Regards,
Lio
5/8/09
Dear Peg,
Thank you once again for a fantastic service as always.
I have used you lots and lots of times and my girlfriend has never been disappointed
with the flowers, so I will keep coming back !!
Thank you so so much !!
Best regards
Terry
4/24/09
Hello Peg,
I would like to thank you for excellent service. Flowers were delivered
well and made happy the right person.
I will use your service again, when necessary.
Thank you one more time
Jindrich
1/5/09
Thank you Peg,
Once again your service is excellent. Even though I know my delivery is not until Valentines Day, I am certain you will deliver on time for me once again!
I used you a few weeks ago, and my wife, who is still living in Phetchabun until we get her visa to England, absolutely LOVED your flowers!
They arrived on time, fresh and beautiful, and she was truly thrilled with the surprise. Being 7000 miles away from your wife is not easy, and the gift of beautiful flowers brings us closer together.
I will recommend you to anyone else who needs flowers or gifts delivered to Thailand from overseas. 
Best regards,
Laurence Hunter
PS. I will happily allow you to use this letter on your website.
1/28/09
Dear Peg,
I wish to thank you and Maew for your help in sending flowers to my wife in Thailand.
You and Maew have made it much easier for me to make my wife happy, and your service is excellent.  I have always received more than I expected in my dealings with you, and it is a pleasure to do business with someone who takes their work seriously.
I have used your service for almost two years now, and have never been disappointed.  If there is ever a problem, you resolve it quickly and efficiently.  You cannot ask for more.
You may use this letter on your website if you wish.  I am a very satisfied customer.
Best Regards,
Ken B
Texas, USA
12/25/08
I really enjoy your company , they have beautiful
flowers and are always on time. thank you so much.
Frank Mosso
12/6/08
dear chang florist, would like to say, thank you very much for your service, top class, they were beautiful flowers ,kind regards ray
8/29/08
Wonderful service from USA to Bangkok!
Jeeap was very happy to received the unexpected floral surprise.She received it about 11AM and thank you for being so prompt. She described it just like the website picture, white and pink. I'm glad I found your beautiful website and will recommend it to others as well buy from your trusted service again.
Take care of yourselves - happily - Chuck (Chanwit) Carlisle
6/26/08
Peg;
Thank you for the awesome service. Sirwarin loved the flowers... And you found her and were able to deliver them. I appreciate the effort and diligence on your company's part. I will be using you in the future.
Kirk
6/20/08
Mom said that the flowers were absolutely beautiful. Thank you!
Cheers!
Diane
6/20/08
Dear Mr. Krin,
Thank you for you wonder, wonderful service. I received a call from my fiancé Lookped who was very surprise and happy. She received her roses early and that was great. The bouquet was beautiful and again I very impressed with you courteous, professional service. Lookped and I will recommend your floral services to every one we know. Have a great day and I will have to take you to lunch when I'm in Bangkok in august.
Best regards,
Mark Plennes
Scottsdale, Az. U.S.A.
5/30/08
Dear Peg,
Thank you very much for your quick delivery and flexibility. I am impressed by your level of professionalism and quick response to my emails. I look forward to employing your services in the near future. Thanks again.
Sincerely,
1/16/08
Thank you so much for your prompt respond. Better yet, my aunt loves the flowers!!! I am glad to find such a good website to send flower to my family from now on.
Thanks again.
Jesita
12/14/07
Sawasdee khrab
Khorb khun khrab. Your delivery was as promised and the roses were fresh and in full bloom. I will be using you often.
Smark, USA
12/13/07
Hi, My Wife was very please with the quality of the flowers which she received for her birthday today. Thank you.
Regards
Derek
12/12/07
Khun Sirs
Thank you so much
I have already had a telphone call from Plienjit
She is so happy with the bear and the flowers
Thank you
Mike PJ
11/13/07
Very many thanks for this,
I am very impressed with the speed of your service and will be using you again.
Rgs
11/11/07
Khun Peg,
I just wished to say once more how much I appreciate you and Maew working to help me realize the vision I had on my recent trip to Thailand.  Pan loved each arrangement.  They all arrived on time, in the right place, and they were all perfect.
You may count me as a very satisfied customer, and use this letter to advertise or show other potential clients.  Your willingness to go the extra mile to help your customers is very much appreciated.  I asked for something complex and special, and you delivered it perfectly.  A job very well done! Thank you!
Kop khun mag krap,
ขอบคุณมาก,
Ken

Hi Peg,
I just wanted to thank you for the nice flower arrangement for my wife. The flowers looked very nice (she emailed me a picture of them) and she was very surprised to receive them.
Regards,
Marco
10/28/07
Dear Peg,
Thank you so much for your wonderful and timely flowers and delivery service. My sweetheart absolutely adored the flowers and her staff are all very impressed with how romantic i am. Well just wanted to say thank you because i could not have done it without you-being romantic that is. I will exclusively use your company for future deliveries. Wishing you a successful future for years to come.
Thank You Very Much,
9/8/07
Dear Peg ,
Thank you very much for your kind and quick service , will be recommending to other people .
Thanks Dino.
3/12/07
Dear Peg,
Thank You very much for delivering the flowers which I ordered. Pemika sent me a picture of the bouquet and it's very beautiful.
I hope I'll be able to send you another online order in the future.
Regards,
David
3/09/07
Thanks to you too...Pai was very happy!
BRoN
2/20/07
You did a great great job. She loved the flowers. Thank you thank you thank you!!!!!!!!!!!
2/17/07
YOu did great job. Thank you. My friend was very happy to find the flowers waiting for her.
2/16/07
Thank you for a great delivery and great flowers all went well and your product was of good quality.. I look forward to using your shop again for my next flower delivery..
2/16/07

Thanks again
Wayne confair..
Sent via BlackBerry from T-Mobile
2/16/07
Dear ChangFlorist,
I would like to thank you for your wonderful service, your flowers reached my friend and she was so happy with them and she has told me that they were very beautiful.
Thank you very much and I will use your florist again when I have the need to send flowers in Thailand.
Best regards,
John Cody
2/16/07
Hi Klin,
Thank you so much for the beautiful flowers you delivered. Thitikarn was
delighted with them, she said they were the nicest she ever seen.
I look forward to using your business again in the future.
Kind regards,
Dave
2/16/07
Thank you very much. Excellent service and I will recommend to others.
2/15/07
Dear Kin,
I would like to thank you for the delivery you made. My girlfriend was extremlyhappy with everything you delivered. I am also very happy with your service and would like you to know that any future flower orders i will be making with your company. You have a wonderful service and i thank you.
Warmest regards
Patrick Connolly.
2/15/07
Sawadee,
Korp Khun Kap for the good service, my fiancee was very happy with
the nice surprise.
Kind regards
Steve
2/15/07
Many thanks, I appreciate your good service. The flowers were well received on the 14th as requested.
Regards
2/15/07
Many thanks. She was delighted.
All the best.
Bez..
2/15/07
thank you for the flowers and confirmatin.
my girl friend loved them. thanks again wil definitely use you in the future. . .
2/15/07